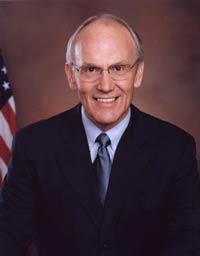 Following in the footsteps of
Rep. Mark Foley
,
Rev. Ted Haggard
, and
Sen. David Vitter
, another influential Republican is the subject of an embarrassing sexual scandal. However, this happened way back in June. Where was our news media? Anyway...
Think Progress
reports...
Roll Call reports today that Sen. Larry Craig (R-ID) was arrested in June at a Minnesota airport for "lewd conduct" in a men's public restroom. On Aug. 8, he pleaded guilty to "misdemeanor disorderly conduct. He "paid more than $500 in fines and fees, and a 10-day jail sentence was stayed. He also was given one year of probation." The arresting officer's report explains:


My experience has shown that individuals engaging in lewd conduct use their bags to block the view from the front of their stall. From my seated position, I could observe the shoes and ankles of Craig seated to the left of me. […]

At 1216 hours, Craig tapped his right foot. I recognized this as a signal used by persons wishing to engage in lewd conduct. Craig tapped his toes several times and moves his foot closer to my foot. I moved my foot up and down slowly. While this was occurring, the male in the stall to my right was still present. I could hear several unknown persons in the restroom that appeared to use the restroom for its intended use. The presence of others did not seem to deter Craig as he moved his right foot so that it touched the side of my left foot which was within my stall area.

UPDATE: Larry Craig called Bill Clinton "a bad boy, a naughty boy" in 1999.
LINK:
Sen. Larry Craig arrested, pleads guilty.
RELATED READING...
LINK:
Conservatives Begin Calling For Craig To Resign Over 'Lewd Conduct' And Guilty Plea
LINK:
Brownback on Craig: It's 'not good,' 'very odd.'
LINK:
Hannity Ignores Stories On Gonzales' Resignation, Sen. Craig's Arrest
LINK:
Senate GOP leaders call for ethics review of Craig.
LINK:
Craig: It's the Idaho paper's fault that I pleaded guilty.
LINK:
MM: Fox News gave slim coverage to Sen. Craig story
LINK:
C&L: News Anchors re-enact Craig's Men's Room incident
LINK:
C&L: 1982 Larry Craig denial, 1982: Updated
"I am not gay!" -- Does anyone believe this?
-Mr. Joseph
UPDATE (9/1/07):
Senator Larry Craig resigned
, effective Sept. 30th! ...Attorney General
Alberto
Gonzales
also resigned
.
So did
Tony Snow
. And
Senator John Warner
. Three of the four are deeply involved in scandals. And the other has cancer.
UPDATE II (9/5/07):
Apparently,
Sen. Craig is reconsidering his resignation
. Can he do that?
UPDATE III (9/28/07):
Yes, he can:
Sen. Craig will stay in office "for now."
UPDATE IV (10/5/07):
He's in it till the end... As Matt Drudge put it,
"I'm here... get used to it!"