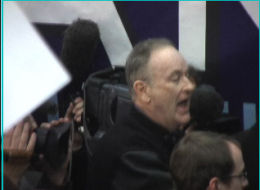 What ridiculous antics this guy is up to. Has he no sense of decency?
Crooks and Liars
has video and a *very* rough transcript...
After Bill O'Reilly had an altercation with Marvin Nicholson, Obama's National Trip Director—he crashes and asks Obama if he'll come on The Factor.

Obama: There's a whole bunch of people over there I've got to talk to.

O'reilly: Thank you very much, You're a good guy. We like you.

Obama: After the primary we'll go on.

O'Reilly: After New Hampshire.

Obama: After the primary.
LINK:
O'Reilly crashes Obama's NH speech and asks to interview him! Don't do it!
RELATED READING...
LINK:
Bill O'Reilly in confrontation with Obama staffer at rally: Screams at Marvin Nicholson
LINK:
O'Reilly says he called Obama's staffer an SOB!
LINK:
Obama staffer says Bill O'Reilly confrontation got physical!
LINK:
Secret Service Restrains Out-Of-Control O'Reilly
LINK:
Fox News' Wilson falsely claimed that O'Reilly said "confrontation" with Obama staffer was "just verbal"
LINK:
O'Reilly falsely claimed "Obama has dodged every tough interview"
Most ridiculous item of the campaign trail...
-Mr. Joseph
UPDATE (1/09/08):
Robert Greenwald
and
FOXATTACKS!
did a great job of summing up this incident.
LINK:
Bill O'Reilly attacks Obama staffer