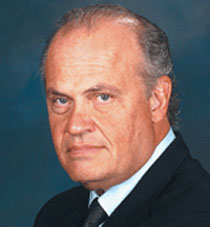 Following the news of
Elizabeth Edwards
and
Tony Snow
, this is depressing...
From the
Chicago Tribune
...
Fred Thompson, the former senator from Tennessee better known for his starring role on television's "Law and Order" and a potential Republican presidential candidate, said Wednesday that he has coped with a slow-growing form of cancer for three years.

Thompson, 64, whom supporters are encouraging to seek the 2008 GOP nomination, said his non-Hodgkin's lymphoma is in remission—"not a big deal"—and should not threaten his life expectancy.

"I am one of the lucky ones," Thompson wrote in a posting on a conservative Internet site, followed by television and radio interviews. "I have had no illness from it, or even any symptoms," he said of the cancer first diagnosed in 2004.

It should have no impact on the actor's campaign prospects either, according to retired Republican Sen. Howard Baker of Tennessee, a longtime friend who is encouraging Thompson to run and took the announcement about his cancer as a sign that he will.

"I don't think he would have made a public proclamation out of it" if he weren't planning to run, Baker said Wednesday. "I think he is going to run."

While still undeclared as a candidate, Thompson, an attorney and former senator who plays a prosecutor in the popular NBC prime-time crime series, has a better-known name—and apparently enjoys more public support—than many already seeking the GOP nomination or considering it.

Thompson narrowly outpolls Sen. John McCain of Arizona among Republicans in a new Los Angeles Times-Bloomberg News Poll conducted April 5-9. In the survey of registered Republicans, 15 percent said they favor Thompson and 12 percent McCain---ranking them second and third behind former New York Mayor Rudolph Giuliani, who drew 29 percent of those surveyed.

Many Republicans also have complained of a dearth of conservative candidates in a field now dominated by Giuliani. Thompson, who opposes gun control and abortion rights, trumps the party's front-runners on those two bellwether issues for conservative voters .

Yet Baker, a Republican who served in the Senate until 1985 and hired Thompson as chief counsel for Republicans on the Senate Watergate Committee, maintains that Thompson carries broad appeal.

"I think the party is looking for the right candidate," Baker said. "He has character…He has experience. He has personality. He has presence… I don't think Fred is a doctrinaire conservative… I think Fred is Fred."

At the same time, Thompson has acknowledged a disease that has gained new attention in the political arena lately.

Elizabeth Edwards, wife of Democratic presidential candidate John Edwards of North Carolina, recently announced a recurrence of her breast cancer – with the couple vowing it will not slow down his campaign. And Tony Snow, the White House press secretary, has been sidelined with a recurrence of colon cancer.

Other candidates have survived cancer: McCain, who was treated for skin cancer, and Giuliani, with prostate cancer.

Others of course have not: Paul Tsongas, a former senator from Massachusetts first diagnosed and treated for lymphoma in 1983, sought the Democratic nomination for president in 1992. Tsongas, who lost to Bill Clinton, faced hospitalization for new treatment of his recurring lymphoma, a cancer of the immune system, in January 1993 and died four years later.

Thompson says his own, slow-growing form of lymphoma does not currently require treatment, and the American Cancer Society says people can survive for 20 years or more.

Thompson is gauging public reaction to his affliction before making any announcement about a candidacy.

Thompson has said for a month that he is considering a campaign, and a Draft Fred Thompson committee says its Internet site has drawn 500 e-mails a day encouraging him to run.

Dean Rice, the committee leader, was unbowed by Thompson's announcement of lymphoma: "Absolutely not. We see yet again that Fred Thompson is straightforward with the American people and does not avoid addressing the tough issues head on."

Thompson explained his situation on another Internet site on Wednesday, the conservative www.redstate.com

"We have all seen the courageous battle that Elizabeth and John Edwards are fighting, and there are so many others," wrote Thompson. "Fortunately, there are an increasing number of good stories because of the medical advances that have been made."

His physician, Dr. Bruce Cheson of Georgetown University Hospital, said: "Some lymphomas are very aggressive, but people with slow-growing types, like Sen. Thompson's, often [die] from natural causes associated with old age, rather than from the disease."

Thompson, who had played roles in feature films—including "The Hunt for Red October" and "Barbarians at the Gate"—became a star on "Law and Order" after leaving the Senate in 2003. He had won a special election in 1994 to fill the seat of Democrat Al Gore, elected vice president in 1992.

Thompson also has top notch credentials: He served as a U.S. attorney from 1969 to 1972 and as chief counsel to the Republican minority on the Senate Watergate Committee during the investigation that led to the resignation of President Richard Nixon in 1974.
LINK:
Fred Thompson says he has cancer
Although I disagree with most of what he says, I wish him the best and I hope he has a swift recovery.
-Mr. Joseph